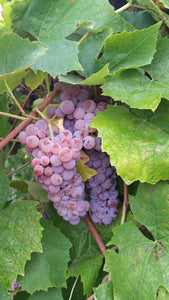 Vitis 'Bath' × 'Himrod'

Red grape forming long clusters. Excellent for fresh eating and juicing. Ripens in mid-August to September.
*2 - 3 year old Cuttings*
Hardiness Zone 5
Three hungry travelers with only one coin argued over what to eat. One wanted a sweet, another several sweets, the third was thirsty. A passing Sufi took their coin and bought grapes, satisfying them all.