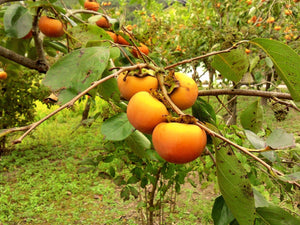 Diospyros virginiana
A visitor from south of the boarder, fairs well in our cooler climate. Produces a orangish-yellow, golf ball sized fruit, high in vitamin C, sweetens with frost, can be harvested into December. Cultivated since prehistoric times by indigenous peoples. Thought by archeologists to have evolved through the stomach of now extinct elephant relatives that once wandered the Americas.
After a century of growth their heartwood becomes a true ebony. Rich in stories and flavour. Cream coloured flowers appear May-June.
Requires a male and female to set fruit. We cannot identify the gender on trees this young. 
| | |
| --- | --- |
| Hardiness Zone  | 5 |
| Purchase Height  | 30-40 |
| Mature Height | 15m |